Designs
Slim and compact
design
Custom and Unique projects are our specialty. Console's body with minimalistic design saves space and fits to every control room..
DESIGNED FOR THE OPERATOR
ODM Consoles 24-7
An optimal workplace is determined by its flexibility, comfort and functionality. We offer a selection of workstations for 24/7 operations designed to fit every professional need. Our integrated active components help operators dedicate total full focus to their work, even in critical situations.
Where you improve comfort, you improve health and productivity.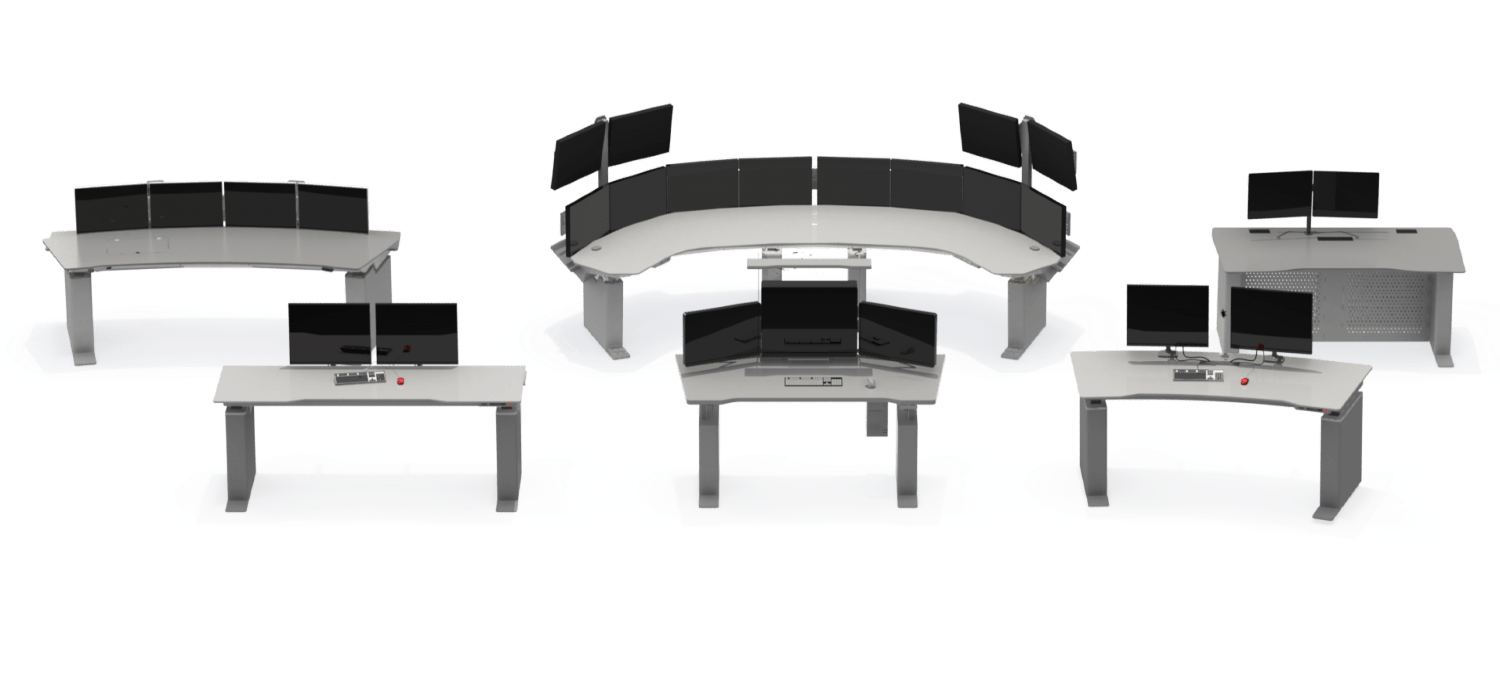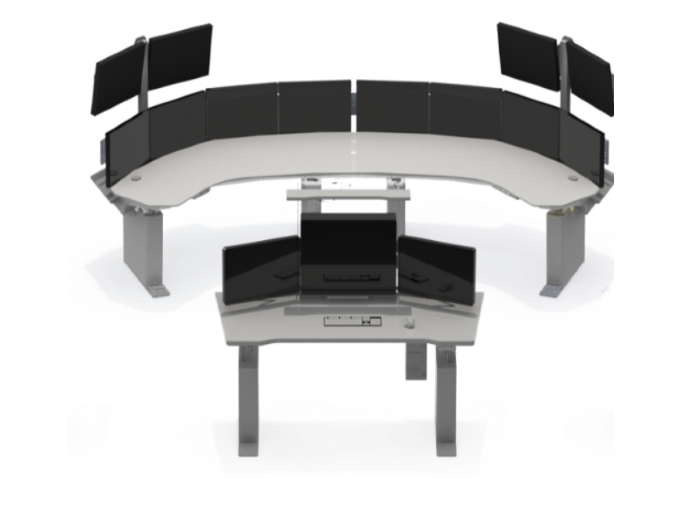 ANY SPACE,ANY SHAPE
READY FOR SPACES OF ALL SHAPES AND SIZES
Our highly customisable design and manufacturing process allows for infinite possibilities and arrangements. The Consoles Ergo and Tech Line can be integrated into any control room, combining durability and ergonomics with a highly customisable design. Consoles can be manufactured for both single and multiple operator use, for any space of any shape and size.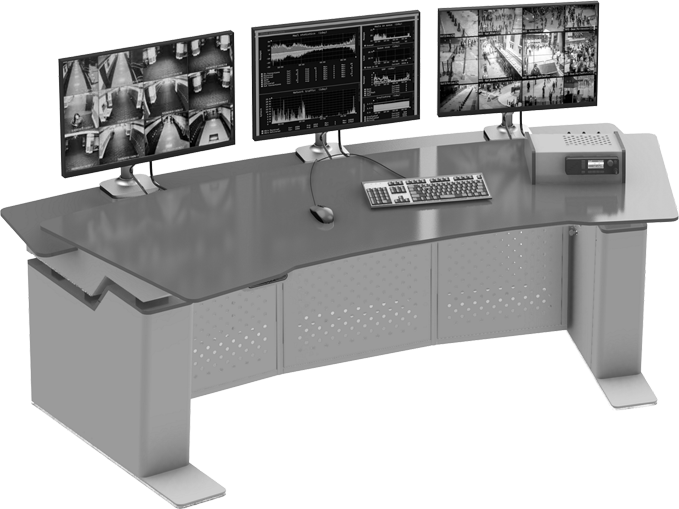 CONSOLES ERGONOMY
Design and Ergonomics
Slim design with an integrated technical compartment. Sturdy steel sheet frame for maximum stability.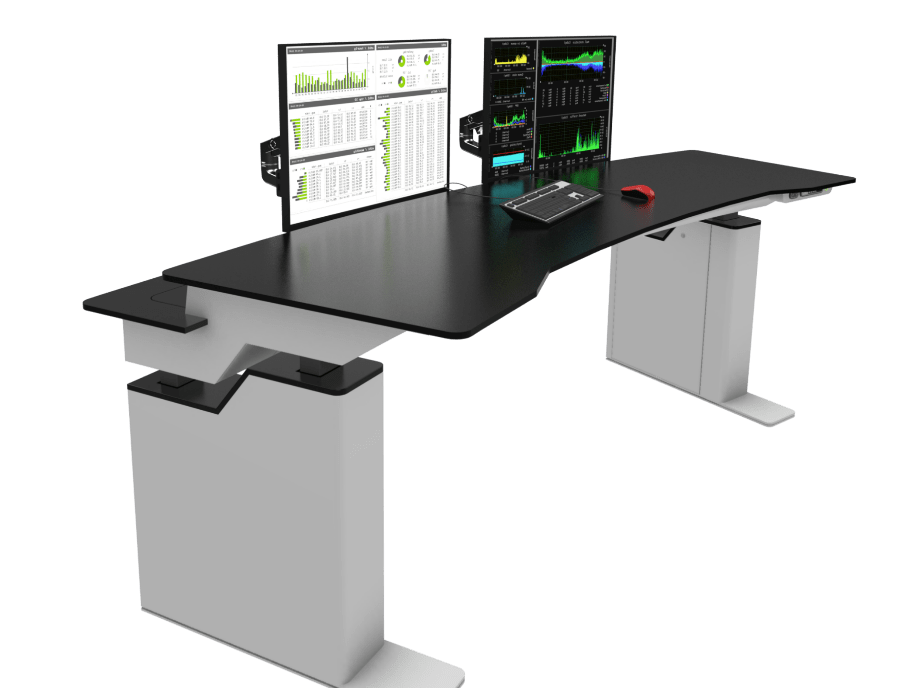 Downloads & Usefull Links
Customize your control room
The layout and configuration of your control room furniture are crucial to creating an inviting work environment. Our design team will customize your 24-7 consoles based on your ergonomic and technical requirements.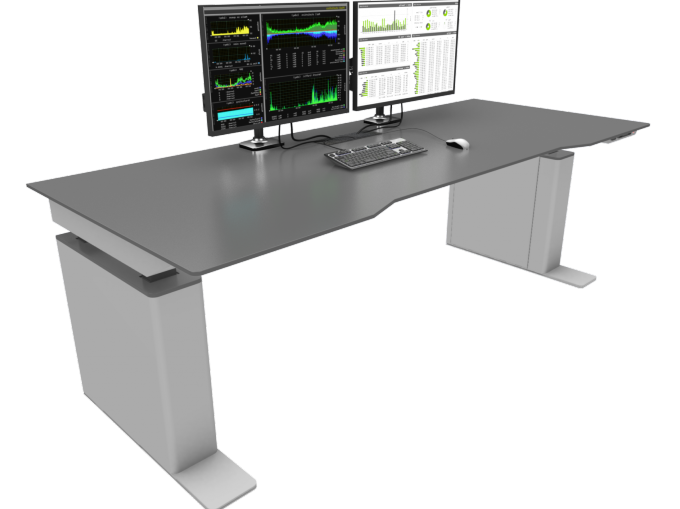 CONSOLE BASIC
Desktops for every Control Room
High-quality Corian™ or HPL desktopsAvailable as single or dual working level, Available both rectangular or curved
Electric height adjustment as standard
for working and monitor levels, with integrated memory. Integrated piezoelectric sensors for collision protection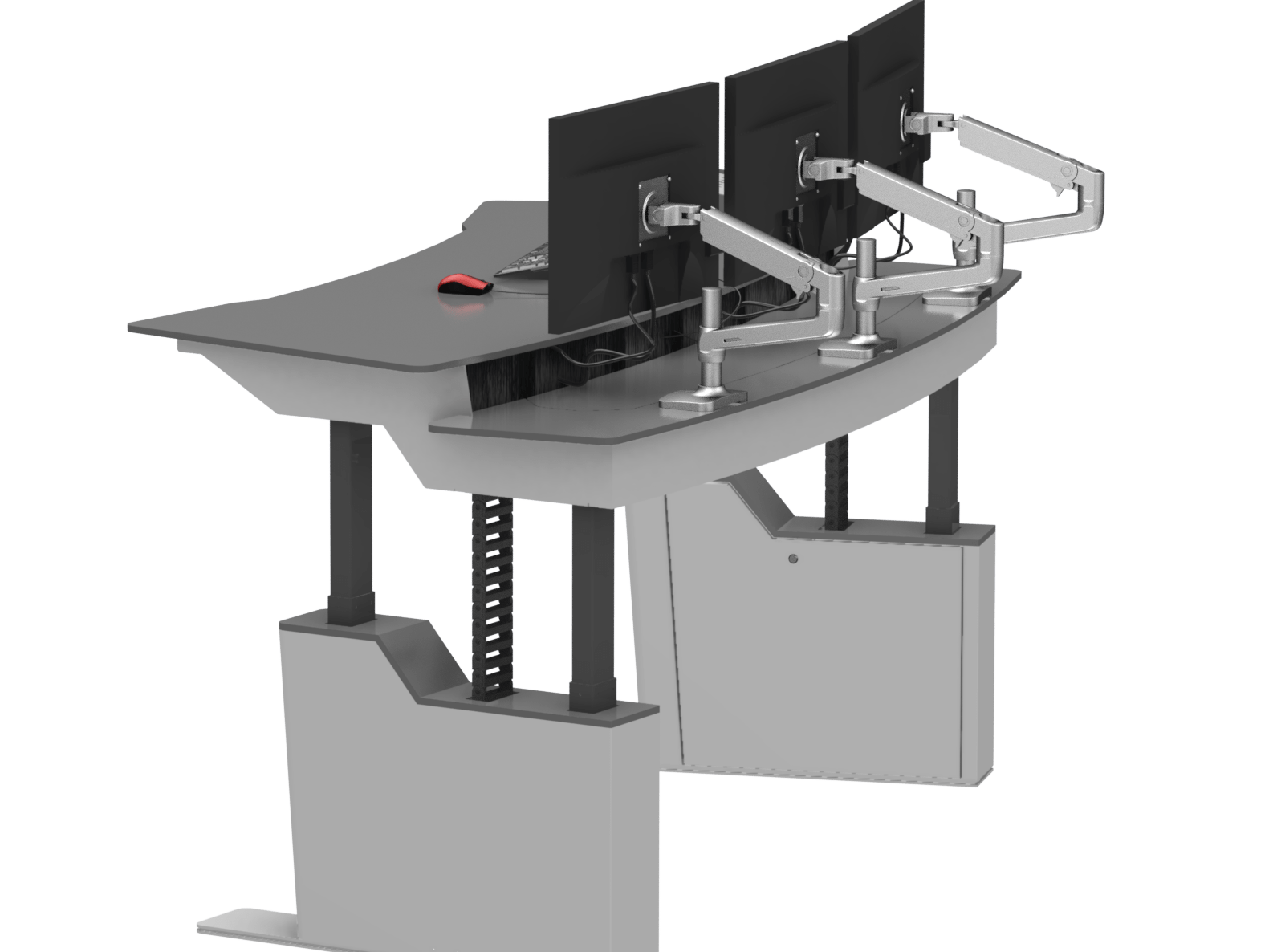 Concealed cable routing
Cables are routed in hidden vertical cable chains on the sides of the consoles, accessible from within.
Secure routing with optimal cable bending.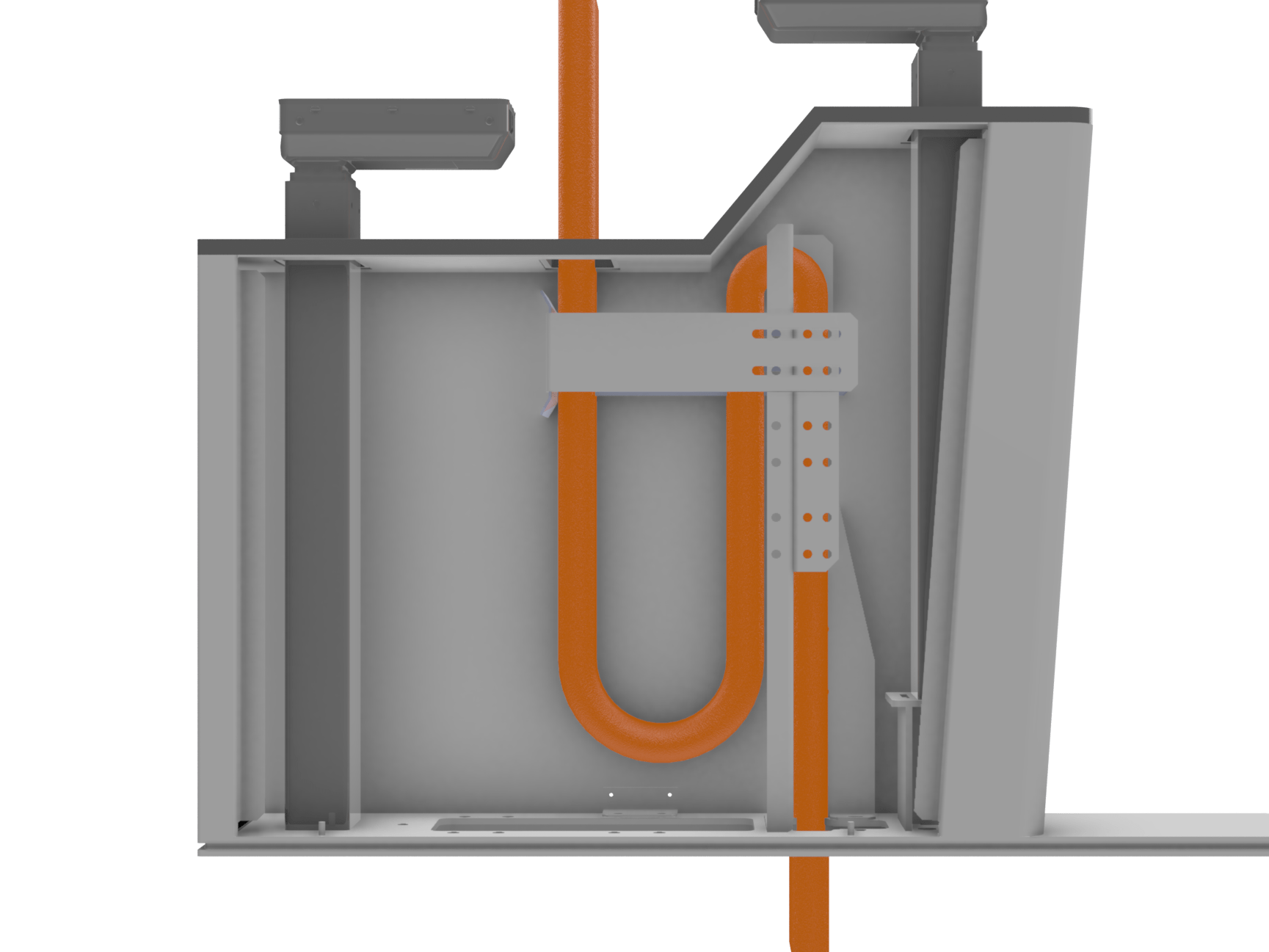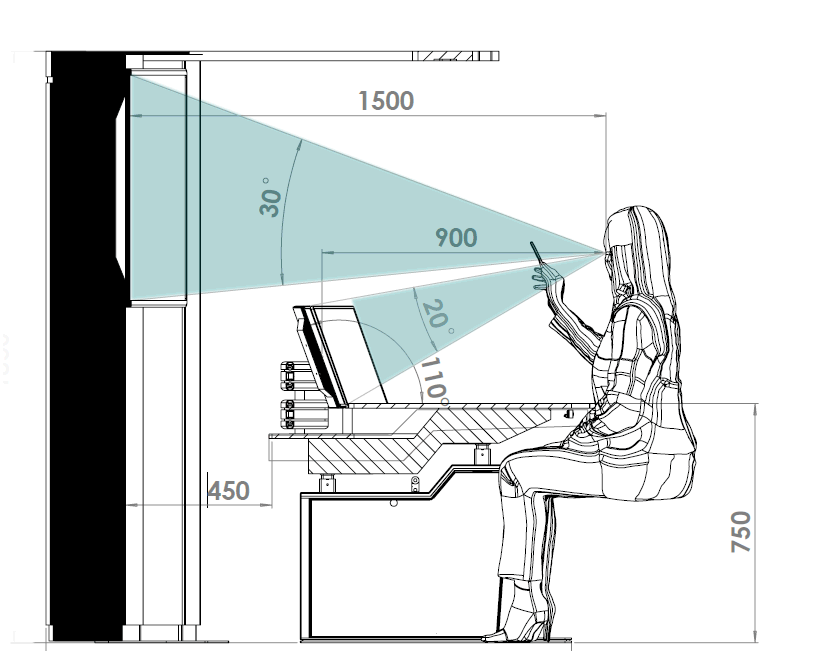 Customizable console system
Choice between two different monitor mounts:
Single monitor arms with Constant Force™ Technology
Monitor support system with single-level or dual-level monitor rails, with the option for electric height and depth adjustment.
(Available in models Ergo.Line and Ergo.Dual)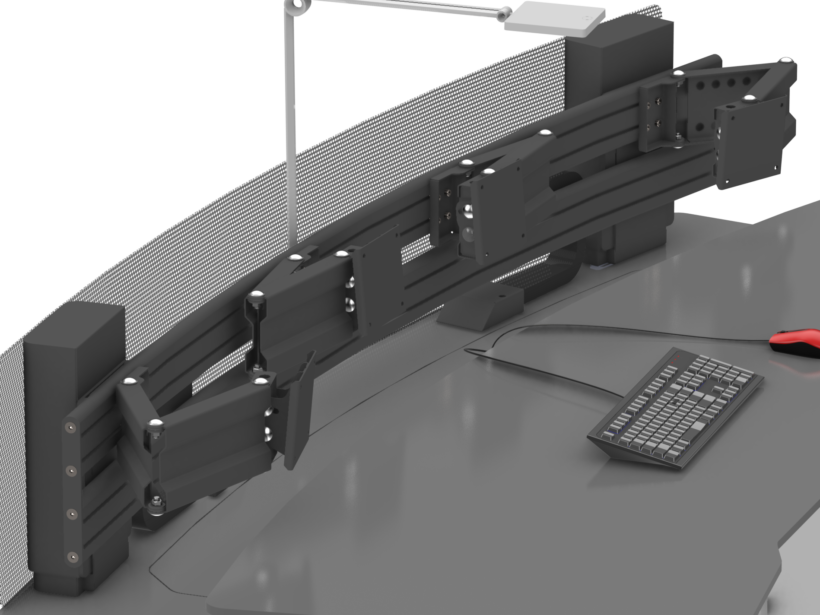 MONITOR MOUNTS
Monitor support system
Electrically height-adjustable monitors allow for effortless switching between positions*.
(Available in models Ergo.Line and Ergo.Dual)
Monitor mounts
Single monitor arms
with Constant Force™ Technology, allowing for full and precise tilt, pan, rotation and height adjustment.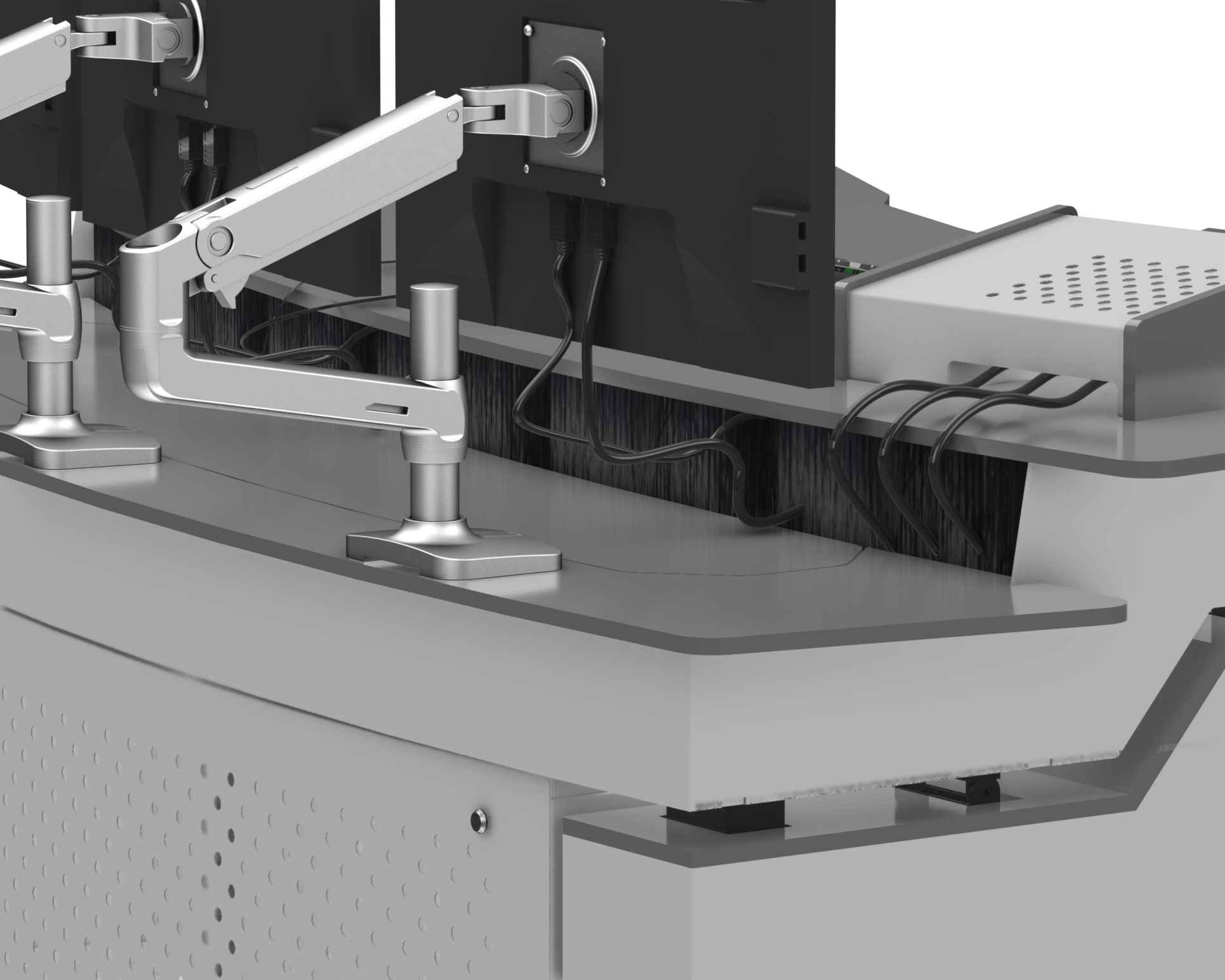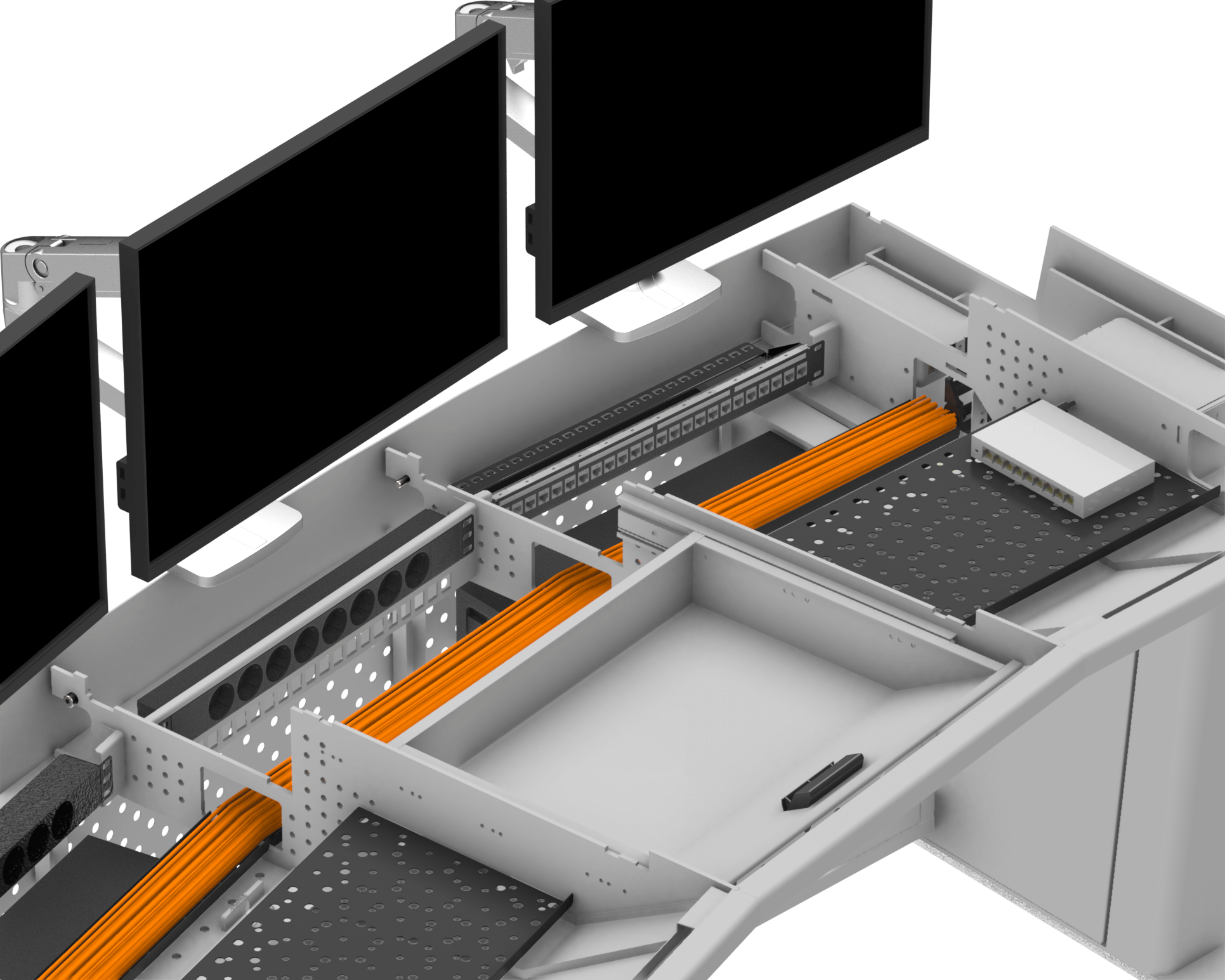 Base Technical compartment KVM ready
Integration with up to 5×1 RU 19" installation space, up to 12 Keystone modules beneath the desk surface, ideal for control rooms with remote, SFF or micro workstations.
PC TOWER & 19"
Extendend Technical compartment
Integration with a tower or 19" workstation requiring greater amounts of space, for servers and rack-mounted equipment installed beneath the tabletop.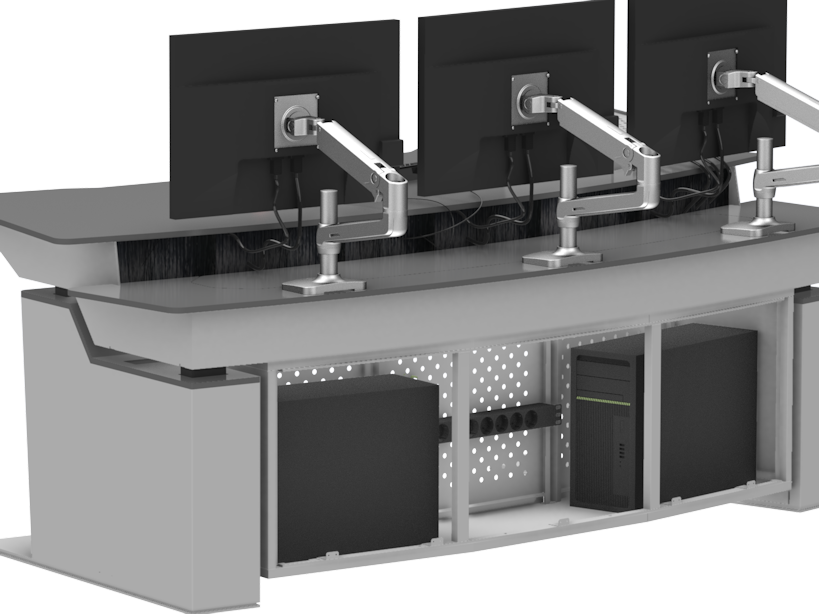 Ergo & Tech Consoles Configuration
Console Type

Width / Depth

Tabletop 

Monitor System

Extended Technical Compartment

Ergo.Line S

Upon request

Standard 

180/90cm

230/100cm

Rectangular Single Level

O Without

M LX Monitor arm From 1 to 8 pcs ( depends on console width)

Monitor Support system with up to 12 monitor mounts

N1 Monitor Support system One Level

N2 Monitor Support system Two Levels

N1e  Monitor Support System One Level electric adjustable

N2e Monitor Support System Two Levels electric adjustable

"

"

"

Optional

Ergo.Line C

Curved Single  Level

Ergo.Dual S

Rectangular Dual Level

Ergo.Dual C

Curved Dual Level

Tech.Line

Rectangular Single Level

O Without

M LX Monitor arm From 1 to 8 pcs ( depends on console width)

Standard

Tech.Dual

Rectangular Dual Level

"
Compliant with
EN ISO 11064: Ergonomic
design of control centers
and DIN EN 527 :
table top adjustable range 68 – 118cm,
consoles with Single Level Tabletop
adjustable range 65 – 125cm
READY FOR SPACES OF ALL SHAPES AND SIZES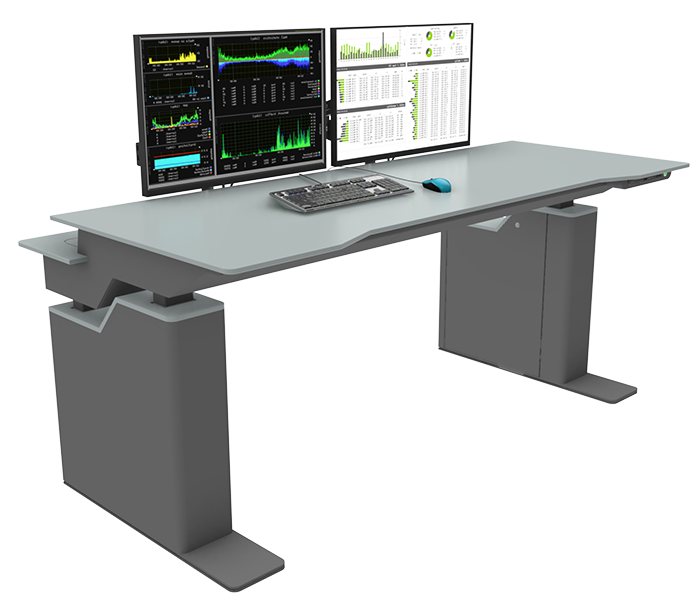 Ergo.Dual S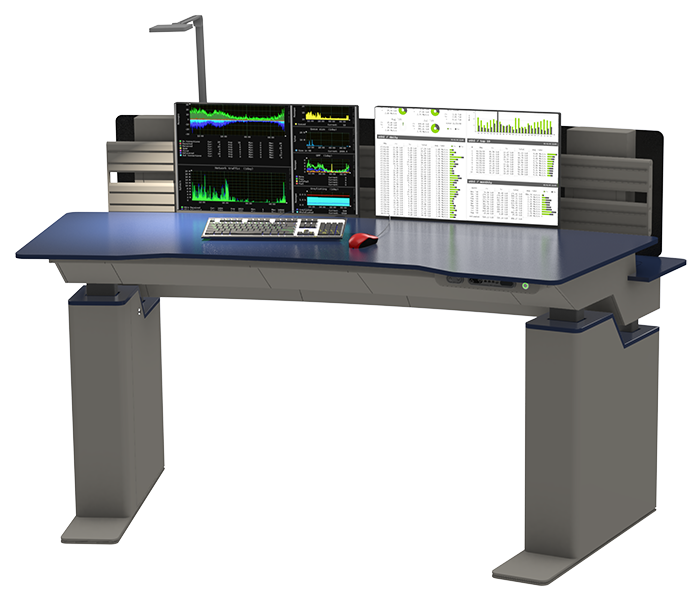 Ergo.Dual C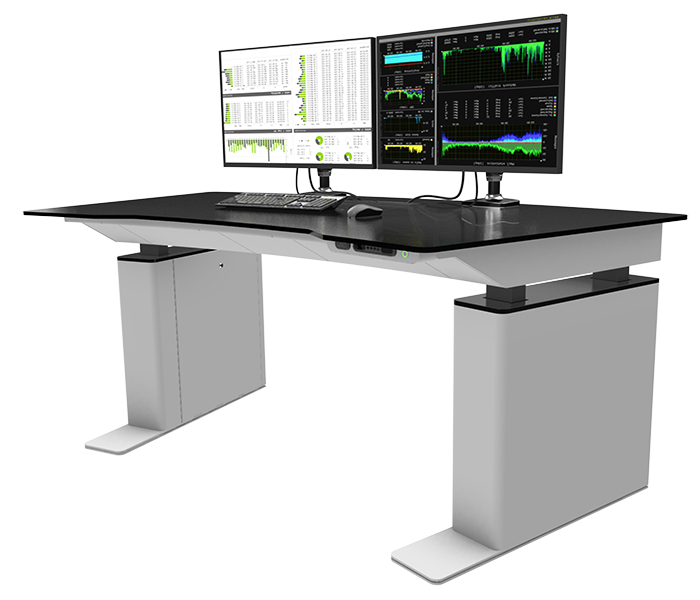 Ergo.Line C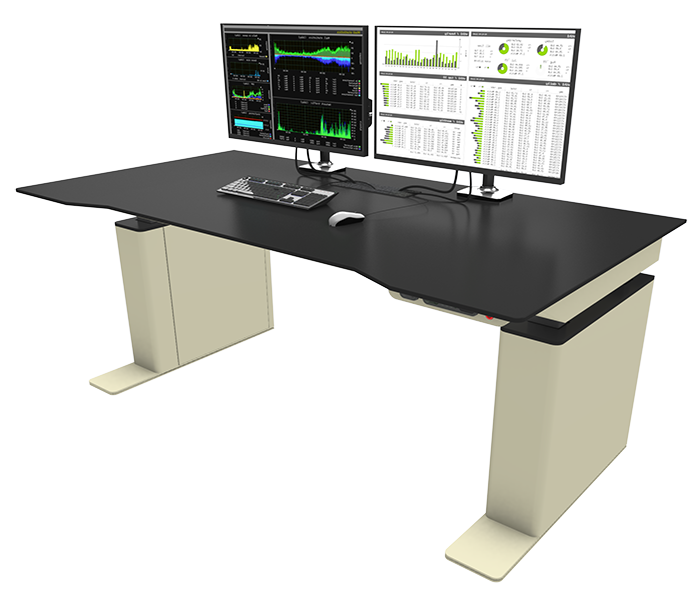 Ergo.Line S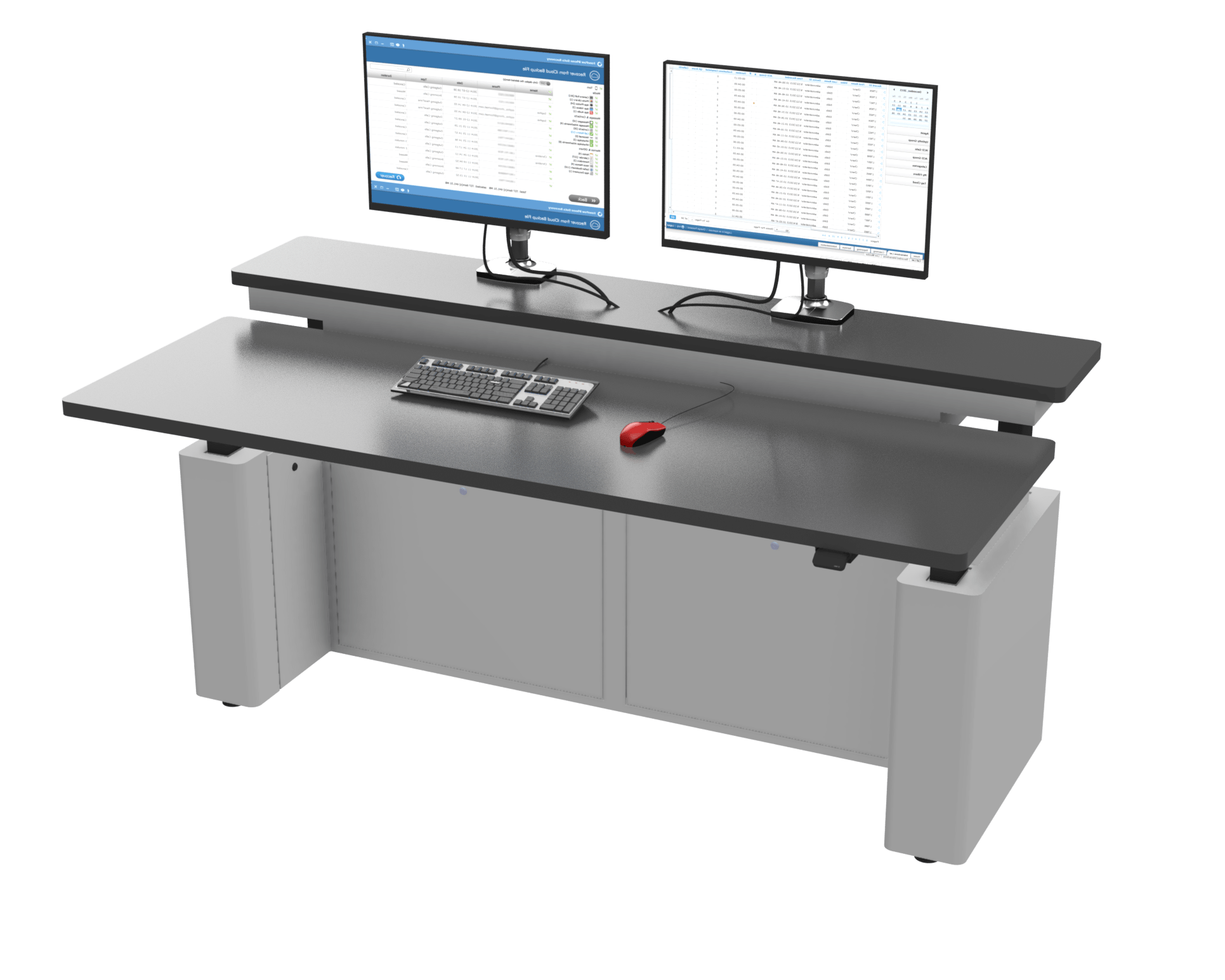 Tech Dual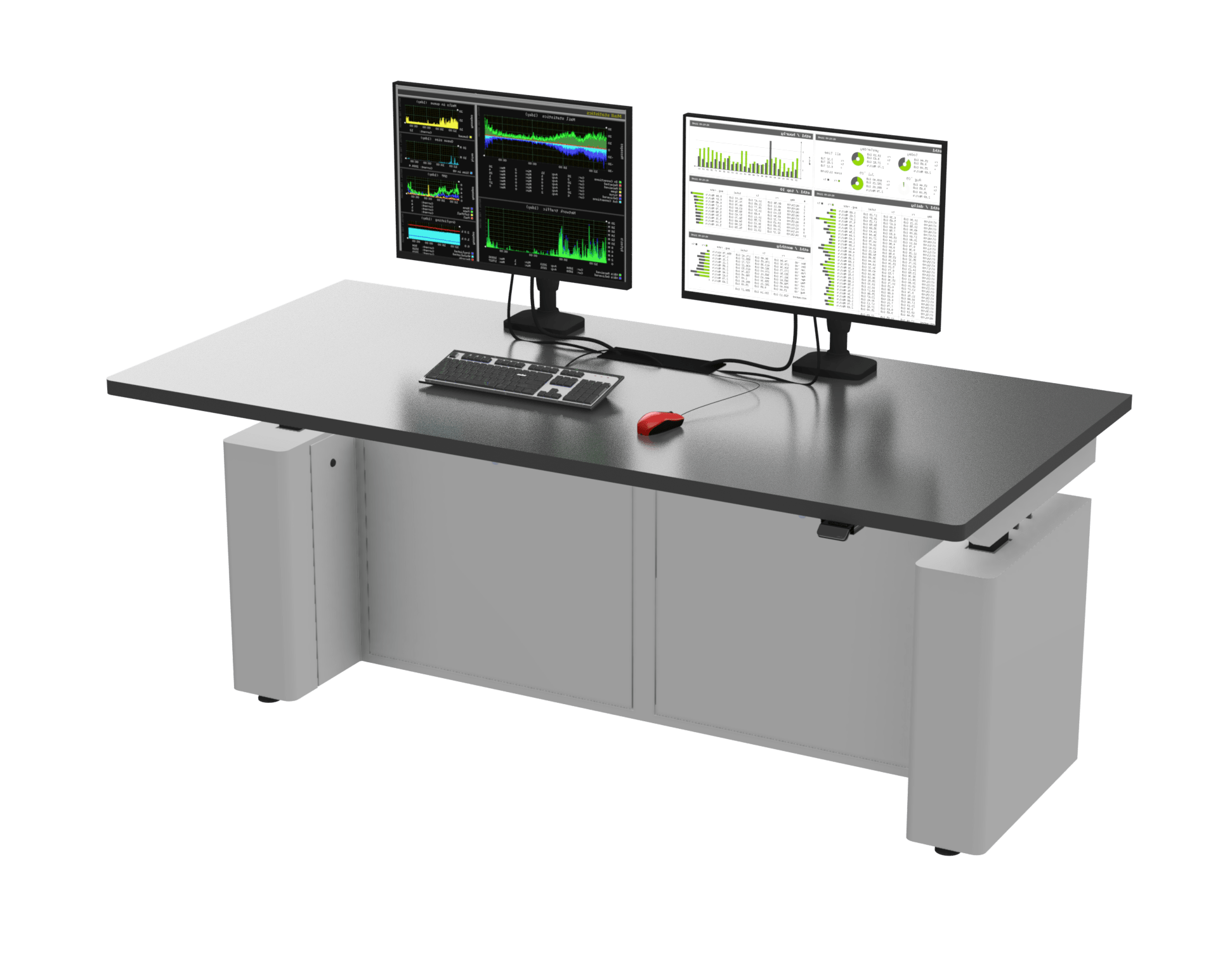 Tech Line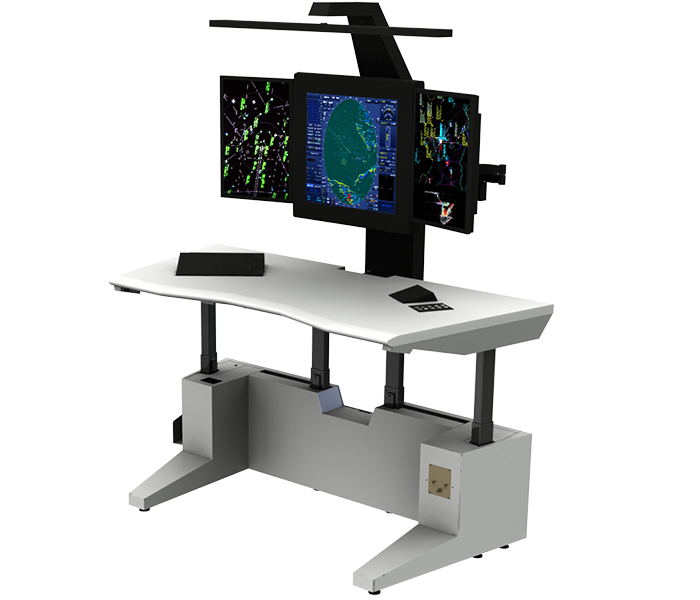 Custom Consoles